FEMALE SURREALISTS
MERET OPPENHEIM
Meret Oppenheim's work touched on feminist themes, this image, one of her works, suggests the women being represented by the high heeled shoes, trussed up like a turkey on a plate, presented to the male dominated society. If you view the artwork from straight down however, the work appears in the shape of a vulva, suggesting much more of an explicit undertone to the work.
CLAUDE CAHUN
Claude Cahun, born Lucy Renee Mathilde Schwob adopted her gender ambiguous name in 1917, wanting to perhaps feel more at ease within herself.
Cahun's androgynous persona is expressed through her photography, using the political climate of the time to explore her identity and its fluidity. Her work focus on depictions of herself, and it is said that her lesbian lover, Marcel Moore would often press the shutter, as they worked with each other collaboratively for years.
I find her work fascinating in the time that it was created, as it feels fresh and new and brave actually, to go against the masses of the media and create work that was unapologetically an expression of herself.
MARCEL MOORE
Marcel Moore born Suzanne Alberte Malherbe also adopted a gender ambiguous name alongside Cahun, and she referred to her as "l'autre moi" (the other me). Part of this close relationship was due to the fact that her mother married Cahun's father, and the relationship between them lasted until Cahun's death.
They worked together not only through photography, but through their war activism aswell, creating photomontage and using their voice for political reasons.
https://en.wikipedia.org/wiki/Marcel_Moore
DORA MAAR
Although Maar was depicting the female form, I feel the impact of the female gaze within this image. The nightmarish shadow brings back the idea of surrealism and inner dreams to the surface, and the image doesn't feel sexualised, just it feels quite innocent in comparison to work such as Hans Bellmer.
Maar's work is suggestive and evocative, and includes ideas surround the hand:
'The hand was a common motif, referring to fetishes, sadomasochistic pain and pleasure, and the evocation of a primitive past contrasted with the mechanized present.' https://www.theartstory.org/artist-maar-dora.htm
Later on in her life it was said that Maar retreated into herself and perhaps this was her psyche talking on matters of the future.
HANS BELLMER – Puppe
These images make me feel really uncomfortable, the dismembered and fetishized body makes my skin crawl, especially as he would clothe it with little white socks and black patent shoes staple of a little girls outfit.
'With his Doll sculptures and photographs Bellmer appropriated and subverted the idea of the child's toy.'
The images often emphasize the breasts or genitals of the doll, whoch brings about even more of an absolutely creepy and uncomfortable feeling when twinned with the idea of young girls.
I think this is the most extreme view of the female form that I have come across in researching this subject. I am not a fan.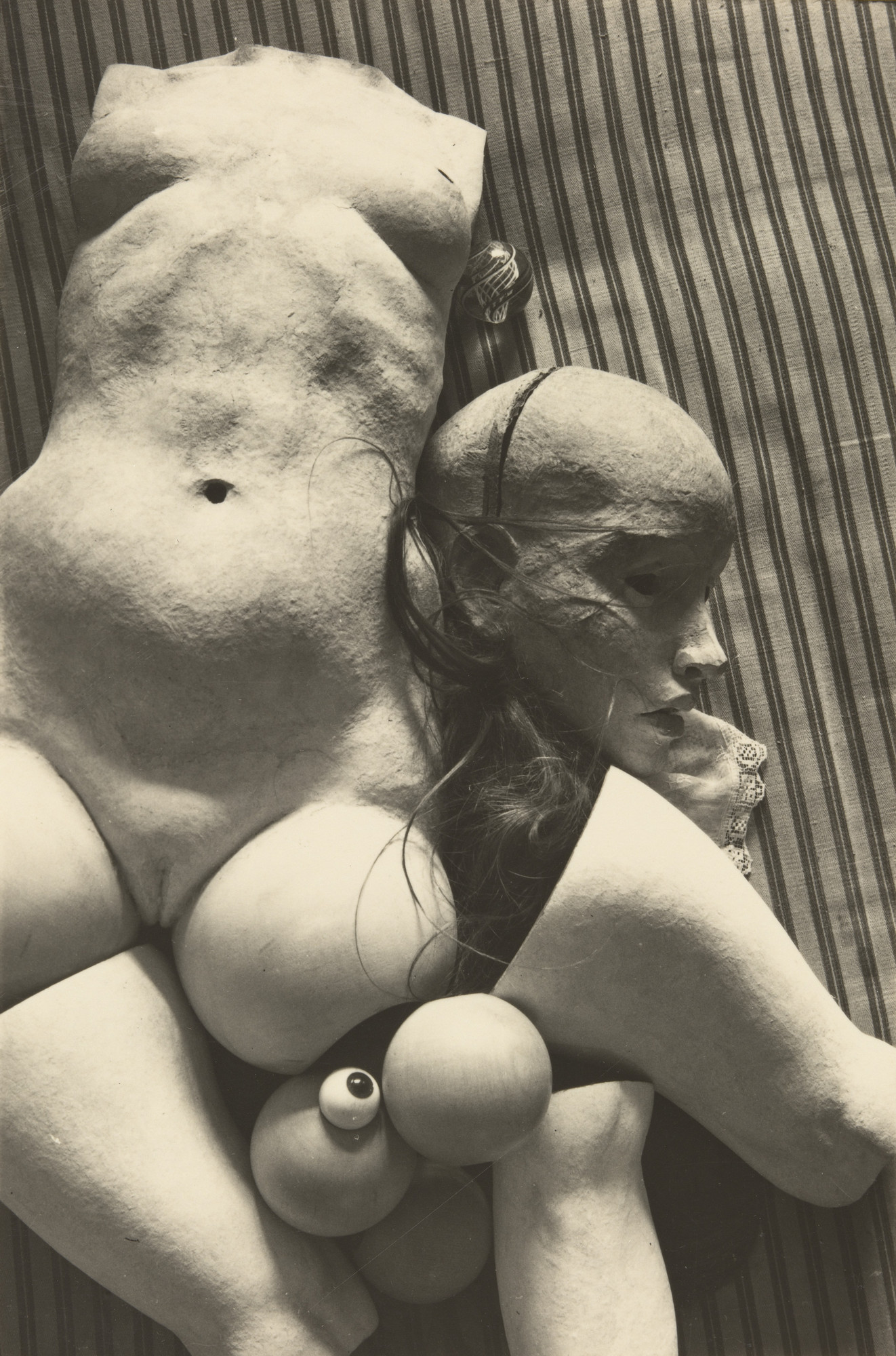 MAN RAY – Le Violon D'Ingres
Man Ray's depiction of the model KiKi was early photographic manipulation, the F holes painted and then put ontop of the model. With a 'comedic' title 'Le Violon D'ingres' a French idiom for 'hobby'. It is suggested that much like a violin is played as a hobby, the connotations of this work suggest that Man Ray like to 'play' Kiki as a hobby. With the 'passion' and love and lust that surrounded relationships and sexual intimacy at the time, this depiction of a woman in this way makes me feel slightly on edge, although the overall image I find somewhat beautiful.
I have to bring up a modern depiction of this in an Amazon Prime original series called 'Mozart in the Jungle' in which a character's 'sexual conquests' are asked to pose for a recreation of this image after they were intimate. In this case it is used with an understanding that the program revolves around the lives of the members of the NY symphony orchestra and so the musical undertone is present, however the uncomfortable moment comes when he shows his male friends all the different women in this position from his phone.